S.S WELDED RECTANGULAR PIPES
Rectangular steel pipes and tubes are used in different industrial applications. These are used for accomplishing different purposes. The common areas, where these rectangular pipes and tubes are used are: supermarket racks, container fabrication, auto fabrication, motor cycles, doors and windows, industrial plant structure, bicycles, furniture etc. There are several parameters for defining the rectangular pipes and tubes.
These parameters are length, width, height, welding gap, radius, diameter etc. According to the nature of the requirements, the size of the rectangular steel pipes and tubes can be altered.
S.S WELDED SQUARE PIPES
In a large number of industries, square steel pipes are used and the production of this kind of pipes is increasing day by day. With compare to round steel pipes, square steel pipes are little more efficient because the square column is more efficient than the solid circular column.
The alloy used for manufacturing square steel tubes is carbon steel. These steel tubes are used in structural projects, shelves, racks, trailers and in ornamental purpose. The framework made by square steel tubes, is used for providing support to the roof. This framework is also used as roof top ventilation baffles.
The square steel pipes are used in a special configuration. Both the perpendicular sides of two square steel pipes are respectively aligned in perpendicular and parallel to the plane of the frame bodies. In this case, by butt-welding, the cross points of the bar members are joined along a short weld line.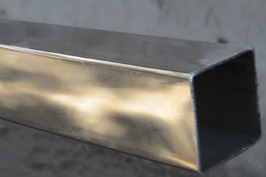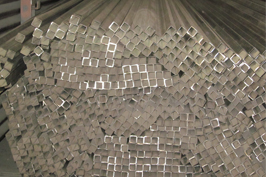 Specification
Grade
Size Range
Manufacturing Process
Application
Material Grades
MATERIAL
UNS GRADE
ASTM / ASME GRADE (TP)
EQUIVALENT GRADE ( DIN / EN )
AUSTENITIC
S 30400
304
1.4301
S 30403
304 L
1.4306 / 1.4307
S 30409
304 H
1.4948
S 30400 / S 30403
304 / 304 L
1.4301 / 1.4306
S 31600
316
1.4401
S 31603
316 L
1.4404
S 31609
316 H
1.4919
S 31600 / S 31609
316 / 316 L
1.4401 / 1.4404
S 31635
316 Ti
1.4571
S 32100
321
1.4541
S 32109
321 H
1.4941
S 32100 / S 32109
321 / 321 H
1.4541 / 1.4941
FERRATIC/MARTENSITIC
S 40500
405
1.4002
S 41000
410
1.4006
S 43000
430
1.4016
DUPLEX & Super Duplex
S 31803
2205
1.4462
S 32750
2507
1.4410
SIZE RANGE
PRODUCT
Size Range
OD (mm)
Thickness (mm)
Length (Meters)
S.S. Seamless Tubes
6.00 mm - 101.60 mm
0.70 mm - 3.60 mm
25 Meters
S.S. Seamless Pipes
10.30 mm – 219.08 mm
1.20 mm - 8.00 mm
14 Meters
S.S. Seamless U-Tubes
12.70 mm - 50.80 mm
0.90 mm - 3.50 mm
Up to 30 Mtr. (Dev.Length)
S.S. Welded Tubes
8.00 mm – 219.08 mm
0.70 mm - 6.00 mm
25 Meters
S.S. Welded Pipes
13.72 mm – 219.08 mm
1.20 mm - 8.00 mm
14 Meters
S.S. Welded U-Tubes
12.70 mm - 50.80 mm
0.70 mm - 4.00 mm
Up to 30 Mtr. (Dev.Length)
Manufacturing Process
APPLICATION OF PRODUCT
Chemical Industries
Petrochemical Industries
Refineries Plants
Fertilizers
Heat Exchangers
Condensers
General Piping
Pressure Vessels
Paper & Pulp Industries
Cement Industries

Pharmaceuticals
Dairy Industries
Food & Beverages
Pumps
Hydraulic Tubing
Architectural Furniture
Process Equipments
Oil & Gas Industries
Textile Industries

Engineering
Sugar Industries
Industrial Equipments
Machineries
Heat Exchangers
Instrumentations
Evaporators, Condensers
Automobiles
Construction